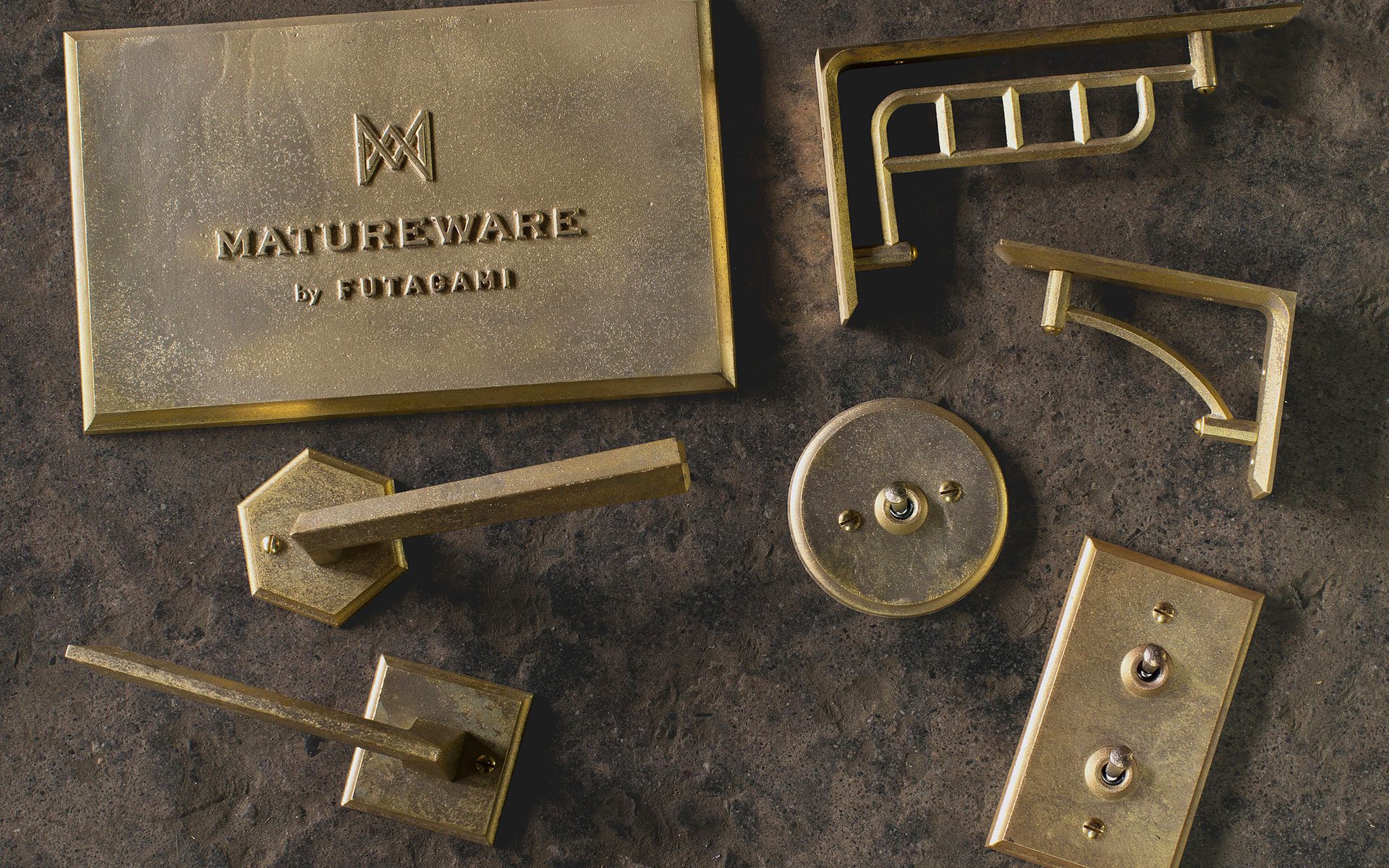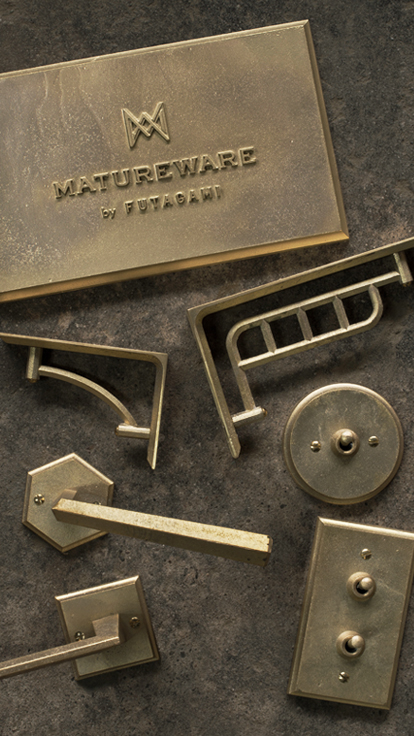 The [IHADA Brass] architectural hardware changes in appearance as it ages becoming attached to the places and people who use them.
The brand [MATUREWARE by FUTAGAMI] is FUTAGAMI's new brand for a line of architectural hardware products which started in February of 2015. The brand's name is derived by replacing the word 'hard' in "hardware" with the word 'mature,' an ode to the naturally developing patina that occurs over the course of time, a characteristic of all FUTAGAMI products. MATUREWARE is produced with the intent that these architectural hardware pieces will grow with the people who use them and the spaces where they are installed.
FUTAGAMI Co., Ltd. / Manufacturer
FUTAGAMI
"Futagami" is a brass foundry founded in the city of Takaoka in Toyama Prefecture in 1897, mainly manufacturing Buddhist altars and sculptural crafts such as lit lamps. In 2009, Oji Masanori (handicraft designer) rediscovered the beauty of IHADA (crude casting surface), which is the finish that comes from the process of sand casting, and launched the brand "FUTAGAMI" with a line of brass living ware. FUTAGAMI's IHADA naturally develops a patina that occurs over the course of time resembling an aging/growing process which is also influenced by the place and people using them. This characteristic is expanded to a new line of products, in the architectural hardware brand [MATUREWARE by FUTAGAMI] which launched in 2015. 
Yoshiki Yamasaki / Director
Designer
Designノyamazaki yoshiki
Born in Toyama Prefecture in 1976. After working in a casting manufacturer and a design firm, he joined FUTAGAMI Co., Ltd., where he learned the manufacturing and design of casted brass products. In 2011, he founded BLOCK DESIGN and in 2016 renamed it as [Design ノ yamazakiyoshiki].
"Because I worked in manufacturing and design, I value what can be perceived in the work site of every manufacturer."
Besides assisting in brand-building of many Japanese handicrafts, he operates his own brand [nanigashi]. From various directions, he collaborates with many makers to nurture and help their brands grow.
Masanori Oji / Supervisor
Handicraft Designer
Oji & Design
Born in Hiroshima Prefecture in 1974. After working in an architect office and a graphic design office, he became a handicraft designer. His works expand from designing a variety of Japanese handicraft products, making graphic designs of ongoing works to developing the branding of his product families in an integrated manner. He designs based on the upbringing of a handicraft item with an eye in the destiny of that particular product.
Handling the product design and the development of brand "FUTAGAMI" (2009-). Co-organizing a series of exhibitions of Japanese handicraft products of medium-scale production, named "TE TE TE Traders' Expo" (2012 -).
In 2015, he became the juror of the Takaoka Craft Competition. In 2016, he became the chief juror.
FOUR DESIGN, LLC (DBA IFJ Tradings)
(The sole distributor of MATUREWARE products in the markets outside Japan)
1-8-22 Nakacho, Meguro-ku, Tokyo, Japan
Postal code: 153-0065
To inquire about our wholesale trading information, please visit and kindly fill out the following inquiry form. Please note that, by clicking the below link, you will be transferred to the website of our partner distributor, IFJ Tradings.